Shaken at the age of 2 months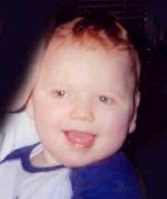 Taylor Marie, was born a perfect child. She had ten fingers, ten toes, perfect size, perfect smile, she was a dream come true. But at the age of two months, while in the care of her "father", Anthony Edward Austin, she suffered an injury that turned our perfect world upside down, and changed it forever. My daughter is a victim of sudden impact syndrome. And a survivor.
February 19, 2001, began just as any other day had. I got up in the morning, to get myself ready for a meeting I had on my day off. I woke up looking forward to the two days I would be able to spend with Taylor after having worked five days in a row. Taylor woke up, I fed her, and continued to get myself ready, as Anthony was going to watch her while I was at my meeting. He took care of her while I was at work as well, so of course I had no concerns. He was her father. Taylor had been fussy that morning, so I put her down for a nap before I left for my meeting. She was fine when I left. When I returned two hours later, she was far from fine. Anthony met me outside, telling me that Taylor was not waking up, and that she was not responding. At first I thought he was just pulling my leg, but still, the first words out of my mouth were, "What did you do to her". I found my little angel in her crib, pale, looking as though she were sleeping, but yet, she was moving unpurposefully and making very low groaning noises. Anthony's sister was in the room with her, trying to arouse her. I was hysterical. We rushed her to the nearest emergency room, 10 miles away. We learned there that she was having seizures, although we had not learned the cause. It was decided that Taylor would be life-flighted to Innovis Hospital, in Fargo, ND. I rode with her, for the longest 20 minutes of my entire life.
We arrived at the hospital, and she was immediately taken to the Neonatal Intensive Care Unit, to be seen by the specialist there. He had concluded that the seizures were being caused by bleeding in the brain, or subdural hematoma, at first telling me that it could be caused by a possible malformation on the brain, and there would more than likely have to be surgery. He had called a neurosurgeon for further examination. The neurosurgeon took her in for immediate brain surgery to relieve the swelling. Two hours later, when he came out, he told us that Taylor had suffered a stroke during surgery, and there was no way to know what the outcome would be. It was then that he revealed to my parents that he had suspected Shaken Baby Syndrome. Little did we know that Anthony was the prime suspect.
The next few days were filled with fear, anxiety and every other emotion that one could imagine. It was a time of extreme highs, and extreme lows. My family was there with me through it all, so Taylor and I had constant support. Anthony and I were questioned by authorities, when at the time, I was so confused and scared about my daughter, that the interview didnt seem that important too me. I was focused on my daughter's survival and was very confused as to why they were asking me if I hurt her. However, I put that aside, and continued to tend to my daughter. On the third day or so, her neurosurgeon took me aside to show me Taylor's latest CT scan. It showed that the stroke had caused her to lose most of her brain, and that only the brain stem remained. His prognosis was that if she were to survive, that she would be on a ventilator and be a vegetable her whole life. We did not expect her to make it through that night. After having her baptized, I was able to hold her for the first time since she was injured. I rocked her, sang to her, and spoke to her, thinking that it would be the last time I would ever hold her. We had all prepared ourselves for the worst, I even told her that it was okay for her to go. I was tired of seeing my baby suffer. She made it through that night, and the next night, and the next. When finally, the nurses began to take her off of her sedatives, and Taylor began to show signs of consciousness. The doctors still said to not take it as a good sign, but at that point, I was taking each day I had with her as good. Her doctor decided to run another CT scan, and that showed that more of her brain had survived the stroke. She had her entire left side of her brain as well!
Taylor spent the next two weeks in the hospial, a total of three altogether. On the day of her discharge, I was met by the investigator and child protection. They had informed me that Taylor would be taken into protective services that day and that I had only a half hour more to spend with her. I was completely floored. After everything we had gone through, now these people were going to take my little angel away from me. I could not understand how they could think that I would hurt her. I later learned that it was not me that they were worried about. It was the fact that I was still technically living with Anthony and that he was their prime suspect. I immediately moved from our residence and lived with my dad. Taylor was in foster care for a month, and then returned to me. I would not have been able to get through that month without the constant help of her child protection worker, Kim. She has been a god-send through this whole ordeal, and I consider her a true friend.
Anthony was charged with first degree assault, arrested and put in jail. He was let out on bond, and Taylor and I continued to live with my dad until the court proceedings were over. It took a year. Trial dates were set, and then they were prolonged, and so on. Finally, Anthony plead guilty as part of a plea agreement, and he was formally sentenced on April 29, 2002. He will serve six years in prison, four with good behavior. Termination of his parental rights are currently in the works, so he will also have no further contact with her forever. Now, finally, Taylor and I can begin our new life!
Taylor is now 17 months old. She is currently working with occupational, physical, and speech therapists to help her developmentally. All of her therapists have been great, and have done so much for Taylor. She is still extremely behind, and neglects to use her left hand, but every day she is showing improvement. She is able to see, hear, and eat--three things her doctors were afraid she would never do. She works so hard every day to overcome the many obstacles that keep her from being a normal toddler. But still, she is the happiest baby you will ever meet. She always has a smile or a laugh, and when things get hard, she keeps on going--she is a fighter, and my little miracle. I can truly say that she is the strongest person I have ever known, and probably will ever know. We still have a long road ahead of us, but I look back to that day, when I thought my whole world was lost....and I realize that we will be able to get through anything together. She is my angel, my miracle, my world.
Written by Taylor's loving mother Lindsey