Shaken at the age of 13 months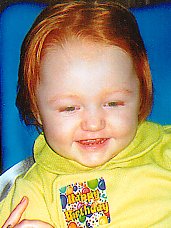 Out of all the survivor's stories I've read, the editorial written by Aubrie's mother impacted me the
most. Every time I read this precious angel's story, it brings tears to my eyes. After reading this
you will realize the devistation this horrible act of child abuse does to these survivors. What Aubrie's
mother said, will forever be branded in my mind, and make me realize just how precious life is, and
how much we take for granted.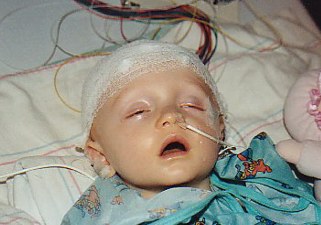 Took her first steps the day before she was shaken. Today she is relearning how to sit up on her own. Walking, however, is not out of the question in a few years.
Used to love to eat peas, carrots, and apples with her fingers. Aubrie now eats Pediasure through a gastro-tube placed through her abdomen to her stomach.
Brie used to say "ma-ma", "da-da", "ba-ba", and "kitty". In August of 2000, Aubrie started making sounds besides crying.
Brie used to take Tylenol Cold & Allergy for her stuffy nose. Since September 12, 1999, Brie has taken Dilantin, Phenobarbital, and Tegretol for her brain seizures.
In August of 1999, Aubrie would watch the tiny little cichlid fish in her 20-gallon aquarium. In September of 1999, Aubrie couldn't see the tank the tiny little cichlid fish swam in.
When Brie was a year old, she received a Winnie-the-Pooh set of nesting cups. When she opened the present by herself and pulled the cups apart with her fingers she was thrilled and laughed loudly.
When Brie turned two years old, she watched her family eat her birthday cake from her special wheelchair and was delighted when she heard the other children in the room playing with their nesting cups, as she didn't know how to use her hands and fingers anymore.
Aubrie has gone through all of this and still she smiles, still she laughs, still she trusts, and still she lives. Aubrie Jean Romine is the kind of person that I would like to be when I grow up: sweet, kind, loving, and most of all a fighter. She is what precious people are: one in a billion. I am the lucky one for being allowed to have her influence in my life, and that is something that I will always make sure to tell her through out our years together. If only every parent could appreciate how special their children are and their children not have to go through something as horrifying as this. To realize that holding my daughter is not unlike holding a star from the heavens is a wonderful gift from a horrible tragedy.
Kimberly Carol Heins, charged with 3 felony and 3 misdemeanor counts of child abuse in connection with Aubrie's shaking. Found innocent in a Colorado court of law of all counts, by a jury of 12. Now 36 years old and free.
Kimberly Carol Heins is the wife of a minister, Brian Heins, and the mother of four surviving children and one deceased. I am unaware of the nature of her first son's death, although there must be records of it somewhere. She was a licensed daycare provider in Colorado and Oklahoma at the time of Aubrie's shaking and, as far as I know, still is in both states. Kimberly Carol Heins is originally from Broken Spoke, Oklahoma, a suburb of Tulsa, Oklahoma, and is now with her family beginning a new life and a new church (where Kimberly is the children's director) in Durango, Colorado at this very moment.
I believe this woman to be the one who shook Aubrie Jean Romine on September 12, 1999 in the town of Canon City, Colorado and some time prior to then, but this is just my opinion and not backed by any legal verdict. I will tell everyone I know to keep their children away from this woman. I believe her to be extremely dangerous, now more than ever. I remain ready to testify at her next trial, I just hope with all my heart that it is not a murder trial. The irony: I have recently been told by a Police Officer present that two of the 12 jurors were heard telling the court officials not 2 minutes after the verdict was read and with tears running down their cheeks, that they felt they had made the wrong decision. You can believe that this knowledge continues to torture my family each day.
Written by Aubrie's loving Mother